Flinders University Switches To 100% Renewable Electricity
Adelaide's Flinders University has upped its renewables-based electricity supply from more than 20% to 100% in one fell swoop.
In 2018, the University completed an impressive PV project – 4,136 solar panels installed over a car park at its Bedford Park campus; creating much appreciated shade as well as clean electricity. By 2019, around 6,500 panels were installed at carpark 3 and key buildings on campus. That year, the University announced an additional $1.45 million investment in solar energy.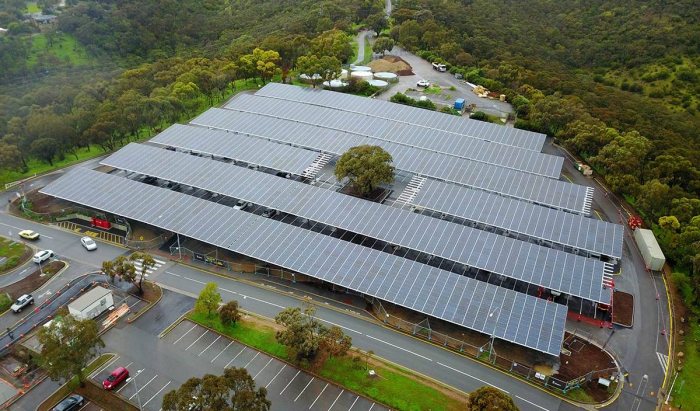 Today, buildings and structures at Flinders' main campus host 7,467 solar panels, which are generating equivalent to more than 20% of Bedford Park's electricity needs.
To bring renewables electricity supply to 100% across all campuses, a five-year deal has been struck with Simply Energy involving parent company ENGIE's 32-turbine 119MW Willogoleche Wind Farm near Hallett in the Mid North region of South Australia.
"We're delivering on commitments set out in our Sustainability Plan and this agreement will ensure electricity supply at Bedford Park, Tonsley and our regional campuses is sourced exclusively from renewable energy right here in South Australia, to complement existing solar electricity generated on campus," said Vice-Chancellor Professor Colin Stirling.
Flinders' Sustainability Plan out to 2025 was developed with the input of staff and students in 2018. That year, the University was responsible for more than 24,000 tonnes of carbon emissions (tCO2-e); primarily from electricity/gas consumption and vehicle related emissions.
While COVID has had some impacts on the Plan's execution, the University continued to power ahead. A Sustainability Plan goal for achieving zero net emissions from electricity by 2021 has now been achieved.
More On-Site Solar Power To Come
Flinders isn't done with integrating renewables. On the solar power side of things, the goal is to increase capacity to the point 30% of Bedford's electricity requirements are generated on-site.
Other activities relating to its Sustainability Plan were the installation of 13 electric vehicle chargers at Bedford Park in car parks 6, 9 and 14 last year, which are free for students and staff to use. Flinders also has several electric vehicles in its fleet, with more to come.
Also in the last year, four solar shelters have been installed across campus.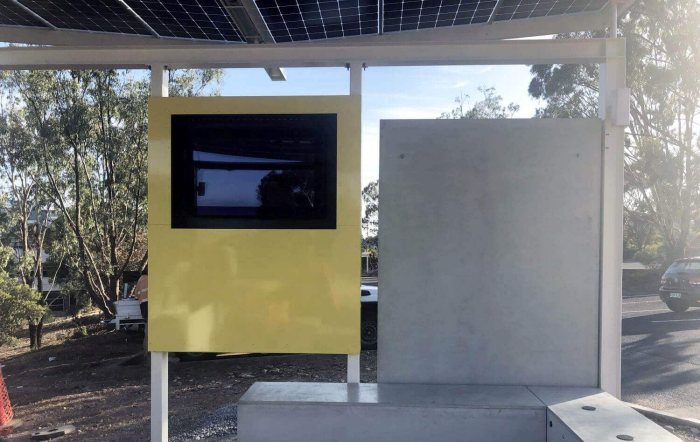 The shelters have stand-alone power systems, using energy produced by the rooftop solar panels to charge built-in batteries to power information screens, handheld device charging and lighting.
Flinders has set a goal of becoming among the first carbon positive tertiary institutions, which means the University will remove more carbon emissions from the atmosphere than it creates.
"Climate change is an important area of research at Flinders University and we are showing that we can 'walk the talk' when it comes to meaningful change in our energy operations," said Professor Sterling.
Trivia: the first major university in the world to offset 100 per cent of electricity use with its own renewables-based energy generation was University of Queensland, largely thanks to UQ's Warwick Solar Farm.
source: https://www.solarquotes.com.au/
---
---